The Trussell Trust runs a network of over 400 foodbanks giving emergency food and support to people in crisis across the UK, where thirteen million people live below the poverty line. In the last year The Trussell Trust gave 1,182,954 three day emergency food supplies to people in crisis. Sandbach School began supporting this very worthwhile charity last December (2017) when we introduced "Foodbank Friday". At the end of each term (around the first Friday of that month) students can bring their donations where they will be collected and distributed to the local branch of the Trussell Trust.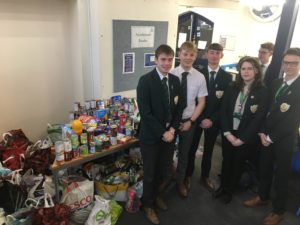 We have just had our Christmas donations collected by the Trussell Trust and confirmation that we have managed to raise 392.24k, which equates to a whopping 817 meals to help out local people in crisis. This is especially pertinent around the festive period where some people really need some extra help.
Thank you so much for all of your donations, what an amazing community we have!
The next collection will be in time for the Easter break.